This fully-packed theme is stuffed with features, and we think that maybe the Astra theme is poised to be this year's STAR winner in Elementor themes.
It's slick, extremely customizable, and above all, it's FREE. That's our mantra to Astra — a WordPress theme that's so dynamic you can use it for anything — a blog/portfolio website or an online shop. Indeed, it's an ideal theme for WordPress alongside Elementor.
More than 300,000 websites use Astra theme and that number is increasing by 1,000 per day. Plus, it supports popular page builder plugins such as Beaver Builder, Divi, and Elementor. Meaning you can easily customize your site the way that you want to.
If you are not a designer, then you can easily import high-quality pre-built templates and complete your website in just a few clicks.
On top of that, you can install several free extensions depending on what your website needs. And, if you want more advanced functionalities for your website, you can upgrade to Astra Pro.
So, is Astra worth the hype? And should you use it for your website?
Let's get down to the nitty-gritty of Astra theme, why it's so popular, and what benefits you can get when you upgrade to the pro version of the theme.
Brainstorm Force – The Creators of Astra
We reckon that Astra is the most customisable and lightweight WordPress theme that's currently on the market.
Created by Brainstorm Force, which is also the group behind the premium plugins such as Convert Pro (email optin and lead generation plugin), Schema Pro (schema markup plugin), and WP Portfolio (portfolio plugin), it is just SO easy to set up and start designing.
Brainstorm Force made Astra to easily and effectively integrate with page builders with the Ultimate Add-ons for Beaver Builder and Ultimate Add-ons for Elementor plugin extensions.
Brainstorm Force is also very active within the WordPress community and in attending WordCamps. Plus, they regularly update their free WordPress plugins.
So, you can undoubtedly rely on the quality of output that this team produces.
What do you get from the Astra theme?
According to Brainstorm Force, the Astra developers, it's super lightweight and highly customisable. If you use Astra on your website and you only have the default WordPress data; your website should load in less than half a second.
Why is this? They have disabled jQuery and kept the resources below 50kb.
I'm using Astra theme, for my website, and it loads for less than 3 seconds. If you happen to browse my site, you'll see lots of images and videos but it always takes less than 3 seconds to load.
Another thing that makes Astra unique is that it supports many popular WordPress page builders. Apart from Elementor and Beaver Builder, it also supports Thrive Architect, Divi, Brizy, WPBakery (formerly Visual Composer), and Gutenberg.
But, if you're planning to import website designs from the Astra Starter Sites, you should use either Elementor, Beaver Builder, Brizy, or Gutenberg for editing.
Did you know that many WordPress themes do not support modern page builders? This means that you can create an attractive page using a page builder, but it doesn't work with the activated WordPress theme.
So, lucky you if you use Astra theme because you're never going to worry about this scenario.
When you activate Astra on your website, and when you edit your posts, pages, or other custom post types, you'll see that there are Astra settings added to the settings box.
It's great when you can customize your website page-by-page, right? And that's what you can do with Astra. Even if you are non-techie, you can customize your website through the WordPress theme customizer.
If you don't want to spend much time and effort in building your website, then you can import Astra's pre-built website designs. Just activate the Astra Starter Sites plugin and choose the templates that you like.
If you're using the free version, you can choose from about 35 designs. But if you're on pro version, there are about 70 designs available. So, whether your website is for your blog, business, online store, or portfolio, you can always have the design that fits for your website.
Almost anyone can create professional looking websites using Astra. But, if you're a developer, you will surely love using Astra as a starting point.
You can create custom post types with Astra and build a WooCommerce website, too. It follows Web Content Accessibility Guidelines (WCAG) 2.0 standards, as well as best practices for SEO. It also supports translation and RTL (right-to-left).
You can also insert hooks and filters to insert content into your website easily. Or, you can use the free Astra Hooks plugin, if you're not into technical stuff.
How do you customize Astra?
Where can you get a copy of Astra theme for you to install on your website? There are two ways to do this.
You can either download it from WordPress.org. Or just search it from the themes area of your WordPress admin dashboard.
Now, if you want to import the pre-built design templates, just install the Astra Starter Sites WordPress plugin and choose from the design that you like.
Once you've installed Astra theme, under the Appearance menu on your WordPress dashboard, you'll see the Astra Options.
From there, you'll see different options that you can configure to be able to customize your theme. You'll also find likes to the free and premium plugins that help extend the functionality of your Astra theme.
These customization options will redirect to the WordPress theme customizer. This is a good thing because you can have a sneak peek of the changes you make in real time. You can even see what your website will look like when in tablet or mobile.
Astra Starter Sites
As I've said, if you don't want to spend much time and effort in designing your own website, you can install the Astra Starter Sites free plugin to choose a website design that you want.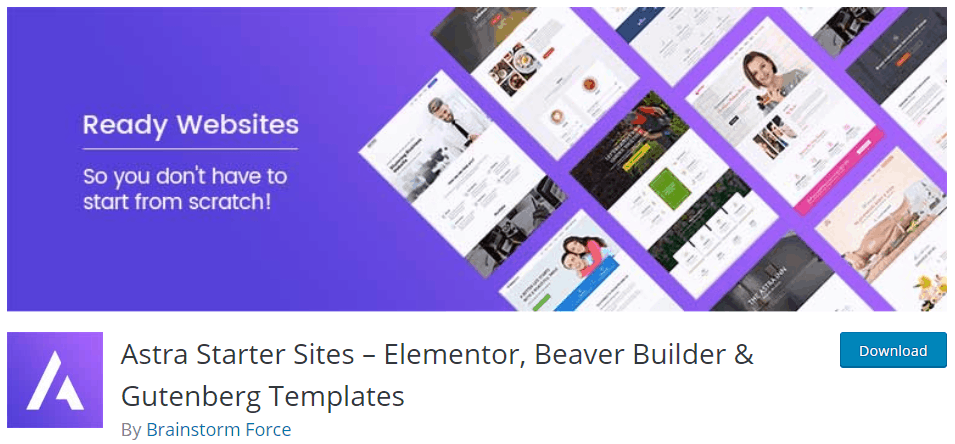 You can find the Astra Sites menu under the 'Appearance' of your WordPress dashboard once you've installed and activated the plugin.
You'll be asked to choose which page builder you use: Gutenberg, Brizy, Beaver Builder, or Elementor.
Keep in mind that the page builder must be activated on your website because each design was created using the specific page builder plugin.
Once you've selected a page builder, it will display all the website designs available for that specific page builder. You can, as well, filter them based on the type of design: All, Blog, Business, eCommerce, Free, and Other.
You'll also notice some design templates have the label "Agency." This only means that it's a premium design available in Astra Pro.
But, I'm telling you, whether it's a free or a premium version, these designs are, of high quality.
Click on one of the designs, and you'll get a preview of what it looks like, as well as which plugins are required to get this working.
Simply click on the "Install Plugins" button at the top or bottom of the page to install all these required plugins. If the plugin is already installed and activated on your website prior to importing the design template, it will be labeled as Active.
Once you've installed all the required plugins, click on the "Import This Site" button. A warning box will display, reminding you that you're going to import the website design on your website and overwrite existing content.
If you're sure about the website design you've selected, just click on the "OK" button and it will be imported on your website after a few seconds.
Once the import is completed, you may now view your website by clicking on the "Done! View Site" button.
Extending Astra with the Core Free Plugins
Go back to the Astra Options under Appearance menu of your WordPress dashboard, and you'll see a section that lists down all the free plugins that you can use for extending the functionality of your Astra theme.
These plugins are developed by Brainstorm Force except for the Unlist Posts & Pages plugin which was created by Nikhil Chavan.
Five of these free plugins were explicitly developed for Astra.
Why are these not included in the main theme? Well, because the developers need to keep the core version as lightweight as possible.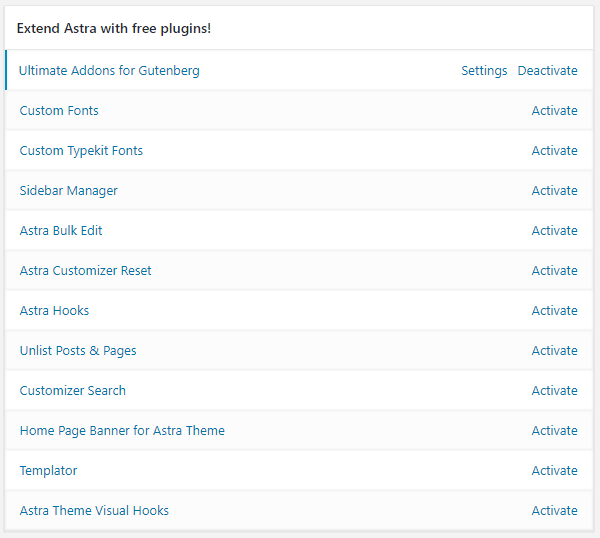 So, for example, if you activate the Astra Hooks plugin, a new Hooks section will be added to the WordPress theme customizer. It helps you to easily insert shortcodes, JavaScript, and content.
If you want to see the hook locations in your Astra theme, you can install the Astra Theme Hooks plugin.
Astra Bulk Edit helps you to simultaneously edit Astra Meta settings on multiple posts or pages.
Homepage Banner for Astra Theme lets you add a banner to your homepage.
If you need to install custom font files and Typekit fonts, you can install the Custom Fonts and Custom Typekit Fonts plugins.
If you're using Gutenberg and want to have additional blocks such as post layouts, price list, and infobox, then try activating the Ultimate Addons for Gutenberg plugin.
If you want to create and manage sidebars, then Sidebar Manager plugin can help you with that.
If you want to hide specific pages on your website from search engines, then use the Unlist Posts & Pages plugin.
Templator plugin helps you to save your templates and pages in the cloud so you can export them to any website. It's available for Elementor only, but they'll soon add support for Divi and Beaver Builder.
While Astra's free version is extremely amazing, imagine what more you can do with the premium version.
You'll get access to more powerful features to build professional websites in an easier and faster way.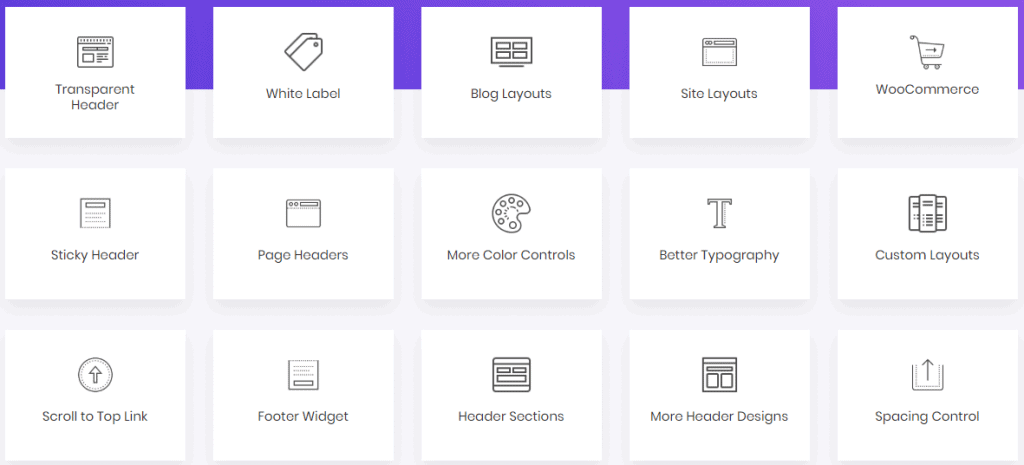 If you're on the Astra Pro version, you can unlock a total of 18 pro modules which enhance the functionality of your website.
The Colors & Background module allows you to set the colors on any part of your website (such as your base colors, header, footer, content, blog, and sidebar).
The Typography module allows you to customize and style your fonts the way you want it. The Spacing module, on the other hand, lets you configure your spacing for margins and paddings.
The Blog Pro module allows you to customize your blog and archive pages by displaying an author bio or loading a previous blog post under the current one.
The Custom Layouts module allows you to save custom layouts for your header, footer, hook locations, and 404 pages so you can easily add them into other parts of your website.
The Site Layouts module allows you to manage your website's overall layout. The layout that you selected will be applied to your website's outer wrapper.
If you have a long web page, you might want to add a scroll to top button at the bottom left or button right of your page so your users can quickly go back to the top of your page. You can do this by using the Scroll To Top module which allows you to customize your icon.
Footer Widgets module has different layouts that you can use for your footer area. It also allows you to customize your footer based on your preferences.
If you're selling physical and digital products, you can easily integrate your website with the Integration Modules for WooCommerce, Easy Digital Downloads, LearnDash, and LifterLMS.
White Label module allows you to rebrand Astra as your own product. If you're a design agency, you can use this module to prevent your clients from knowing what WordPress theme you're using for creating websites.
Now, who's excited? You must be kidding if you say you're not.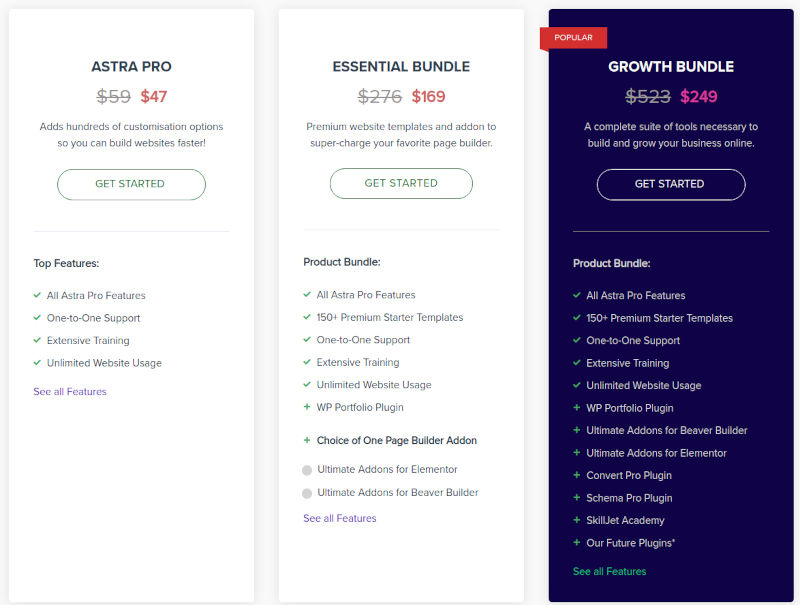 Astra Pro Pricing
All these features are really impressive. But what about the price? How much will it cost you to get all these features?
Well, don't be surprised when I tell you that Astra Pro starts at only US$59 per year. Or, you can purchase it for lifetime access that starts at US$249.
Very affordable, right?
All of the Astra Pro packages come with a 14-day 100% money-back guarantee, plus you can install the theme on an unlimited number of websites. You'll also get premium support when you purchase the Astra Pro package.
If you want more website design templates and additional WP Portfolio plugin, you can upgrade to the Essentials Bundle which is $169 per year or US$499 for a lifetime access.
You can also have either the Ultimate Addons for Elementor or Ultimate Addons for Beaver Builder, depends on what you choose to have.
Additional plugins such as Convert Pro and Schema Pro are included in the full Growth Bundle which is $249 per year or $699 for lifetime access.
So, which one should you choose?
I always say the one that's right for you is the one that can fulfill your requirements and budget.
If you're just starting, then you might not need all the additional features. You can simply start with the Astra Pro entry-level package.
If you need some more functionality on your website, you can install individual plugins. For example, if you need the Ultimate Addons for Elementor plugin, you can get it for $49 per year up to $249 per year, depending on the package that you choose.
But, if you need more plugins, then it would be better to upgrade to either the Essentials Bundle or Growth Bundle.
So what does it all boil down to?
I'm sure you'll agree with us in that the Astra theme is a sure winner. It's one of the best free WordPress themes out there in our Treehouse opinion.
If you're planning to use the free version, we're pretty sure you'll eventually upgrade to the premium version because you can't enough of all the fantastic features that Astra has to offer.
What are you waiting for? Go ahead, build that website, and impress your users and clients.