GoDaddy, is to us Flying Monkeys, without a doubt, the giant of the web hosting service industry, hundreds, nah THOUSANDS  times bigger than any other domain registrar.
They service well over 50 million domain names and that number is only rising. They definitely know what they are doing, and the Flying Monkeys can all count on their service to be reliable and professionally competent.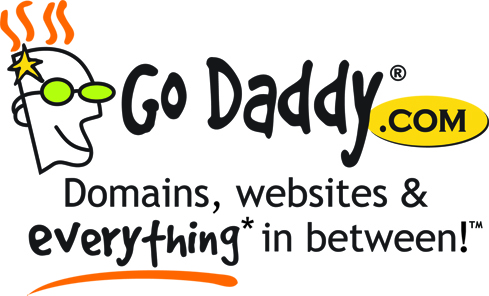 GoDaddy offers variety and customisability in every single product they sell. While they are best known for their domain services, being the world's largest domain name registrar, they also offer some great hosting options, which is not surprising since they have over 12 million customers.
One of the best things the Flying Monkeys like about GoDaddy is their unbeatable customer service. Of course, they might not offer everything included for free, but they do a good job of covering the essentials with high quality service, for the price that you will pay.
We also think that they have one of the best domain searching features available – if a domain you want to purchase is currently not available, GoDaddy can even put it on backorder.
Hosting Solution
 This web hosting service has all the features you can imagine – email, database and blogging are only the beginning. No other web hosting service can match the breadth and depth of Go Daddy's feature set, which is a major reason that they have become such a prominent player.
However don't expect to have access to ALL of these features with the basic package. Many features are contingent on a little extra additional monthly fees – the shopping cart software is the prime example of this. It is very powerful, convenient and attractive, but we'll have to pay some extra, and there is a cap on the number of items you can store in the inventory. If you want to have more in your store, you'll have to pay more.
Special Offer! 20% off New 12+mo Hosting plans from GoDaddy.com!
The email and database features are capped just the same. If you want unlimited everything, the price tag starts to get a little bit steep. On the other hand, Go Daddy's à la carte menu can be an excellent fit if you don't need unlimited access to email and database. And we have found that most SME's don;t need anything more. If you only purchase the services you will actually use, Go Daddy can be an extrememly economical service.
With their entry-level Economy Plan, GoDaddy doesn't offer much in terms of real storage space. However most SME business websites aren't likely to outgrow the 10GB cap, but more ambitious pursuits probably will require an upgrade.
The Deluxe Plan offers much, much more as far as features go and is the most recommended by the Flying Monkeys to our clients. But even then there are still limits when it comes to storage space (150GB).
Even the Unlimited Plan is a bit of a misnomer – you get as much storage and bandwidth as you want, but the databases are still limited to 1GB each and you only get 1,000 email addresses. In other words, Go Daddy is great for small to mid-sized ventures, but it might get a little tight if fortune smiles on your web property.
The Best Features
GoDaddy especially helps beginners easily work with their websites and offers more advanced site creation tools for advanced developers. For those techies amongst you (or your Flying Monkey web developers!) all of GoDaddy's online solutions support most of the main programming languages, including CGI (Python and Ruby), PHP, Perl, ASP, MySQL, ColdFusion and FrontPage extensions.
Go Daddy leaves most of the Spin-Doctor marketing tools out of its lower end website hosting plans. It does offer them in a different section of their website though if you look for them.
Most f us want to market their site through email will need to expand their efforts on their own once they hit the limit of 5,000 emails per year. For an additional charge, the service also offers SEO tools and search engine submission. Every Go Daddy plan includes site statistics information and raw access logs.
Simple to Use
For the non-techie SME business owner/manager GoDaddy is probably the easiest to use of all the online domain services. The file manager, domain manager and database manager are all brilliant and intuitive.
Online file managers are rarely so flexible. It does not do everything, but it is appealing to the eye and equipped with more than the standard array of features. Note that some things require setup time. If you wish to create a new database, for example, there is a delay that can take up to 24 hours.
Help & Support
This web hosting service has a wide range of useful help and support options available, which are accessible at any hour of any day. The online support forums and FAQs section contain a wealth of knowledge for beginners and advanced users alike.
You can also contact Go Daddy's customer service representatives on the phone or via email. This website hosting service is a large company, managing millions of domains for millions of users, so personal help would be expectedly slower than other services. However, Go Daddy's support team is quick to respond, and the expected response time for emails is typically within 24 hours.
Summary
Go Daddy is a worthy competitor in the website hosting industry, especially given the immense reputation it has managed to build within the last few years. The service provides all the essentials including site creation tools, server access and secure facilities that house their data servers.
The setup process is straightforward, and this website hosting service has an option for all levels of management, from beginner to expert. Although we don't love the fees for add-on features, Go Daddy hosting proves to be an efficient and versatile hosting provider
Pricing Concerns
Go Daddy offers three different pricing plans for their 4GH, ie 4th Generation Hosting: Economy, Deluxe and Ultimate. With their new 4GH could hosting platform, GoDaddy aims to offer "Reliability, Scalability, Security, Speed and Ease-of Use". It may be reliable and easy to use, but what about the feature included?
Well, the Economy plan is just that, as you can see from the list of basic features above. Most clients will choose to use the Deluxe plan, which brings 150 GB of disk space, 500 email addresses and 25 MySQL databases for only a small amount more per month. Those with higher usage needs should consider the Ultimate plan, which offers unlimited disk space and unlimited MySQL databases. Pricing for each package varies based on the length of your contract. However, for three years of service, price tags are $4.24 per month for Economy, $5.94 per month for Deluxe and $8.49 per month for Ultimate.
Reliability and Uptime Factors
When it comes to data centers, Go Daddy operates some of the most advanced in the business. Unlike some other webhosts out there, Go Daddy actually owns and operates their own data centers, rather than renting or sharing space from another company. Nothing is outsourced, ever. Servers, routers and firewalls are all monitored 24-hours per day, and are all state of the art, as well. Of course, you will also find that Go Daddy offers a guaranteed 99.9% uptime, which has become the industry standard in just a short time.
Control Panel Information
Finding an example of Go Daddy's proprietary control panel is no easy chore. However, you will find that this control panel does offer a considerable degree of control over your website. You will be able to manage domain names, email addresses, websites and your statistics, of course. Nevertheless, the control panel is slightly more basic than the standard cPanel. It is also slightly more difficult to navigate, simply because of the number of different screens through which you will have to navigate to get things done.
Customer Support and Service
Go Daddy offers excellent customer service, offering more support options than nearly any host. You will find that you can contact customer service via phone or email or web, and we found phone reps to be not only friendly, but also extremely helpful.
We also had positive experiences with their e-mail response time, but some customers have complained of response times of up to seven hours, so consistency may not be their strong point.
However, the best option is to search the company's enormous knowledge base for instant answers to your pressing questions, and then give them a ring.
Bottom Line
At the end of the day, we have found GoDaddy's expertise and high-quality reliable hardware to outweigh the minor drawbacks of their cPanel platform.
We liked that all their hosting and domain plans were highly customizable and that their servers, located in US, Europe and Asia, are extremely secure and state-of-the-art.