One of the most common questions we get about Google+ and one of the most challenging things for our clients is about getting started on Google+. The question is "which kind of page do we start? A Local Page or Brand Page?"
What about a Google Plus brand page, is that right for my business?
A simple way to look at it is that a Google Plus brand page is essentially the same thing as a Facebook business page, in that your page allows you to reach out to your followers (both existing customers and new leads).
The difference between a Google+ brand page and a Facebook business page is simply that Google LOVES Google.
Why is any of this important?
Google (that is the search engine bit, and in no small part the BIG bit) indexes both your Google+ profile information (meaning people, clients and maybe customers can easily find you) and also the content in your post (meaning clients and customers can find the actual information in your social post through the all-mighty Google Search).
In comparison, Google (the MEGA search engine bit) can only index Facebook's profile/business information, not the content of individual posts. The rest of all your Facebook stuff is in FB's secret garden behind that big "paywall".
In summary, if your social content directs people back to your business properties (i.e. website, blog, email newsletters), WHICH IT SHOULD, you REALLY DO want to create a Google+ brand page. Even without any actual engagement on your posts, your content will have the potential to be found through the Google search engine, which can help you get found by your next great customer.
A Google+ brand page does require management and moderation of the comments etc, so you need to know that it will take up more of your time than a Google+ local business page, but the SEO benefits alone will make it worth your while.
What's the actual difference between a Google+ Local Page and a Google+ Brand
Page?
Now all this nattering about these 2 types may have you wondering what the differences are between the different Google pages you can create. The 3 you want to knwo about are:
a Google+ profile
a Google+ brand page
You will probably also need help deciding which one makes the most sense for your specific business type and model.
My father-in-law, who is a real estate agent, had the same questions. He wanted to use Google+ to get a leg up on his competition in the area, but he wasn't sure where to begin.
Once I explained all of the options to him, he became incredibly excited at the opportunity Google+ offered his business, and I hope you feel the same by the time you're finished reading.
First, you need to create a Google Plus personal profile
When getting started on Google+ , you first need to create a personal Google+ profile.
If you have an existing Gmail account, you already have a Google+ page by default (whether you wanted one or not!)! Just start by signing in to plus.google.com with your normal personal Gmail address and password, you will already find a default set-up profile page that you can begin adding your personal information to.
When populating your new Google+ personal profile page, make sure you focus on the following aspects of your profile:
Profile Picture: You want it to be recognizable to your audience and match your other online presences.
Tagline: Let people know who you are with your short elevator pitch.
About: Filling out the about section will make sure that your personal profile can easily get found in a Google search (which is where you want to be…)
Contact information: Don't forget to include your contact information so your potential customers can easily reach out to you for more information. Put as many options as you can re: mobile, phone, email, Skype etc etc
Similar to Facebook, you have no option but to create a Google+ personal profile first in order to create a business page of any kind. Once you create a business page (either one!), it will then be linked to your Google+ personal profile page for simplicity of operation.
When to create a Google Plus local business page instead?
If your business has a physical location or you service your customers in a specific location area and you would like your business to be found through Google Search, Google Earth, Google Maps and the growing family of other other Google apps, then a local business page is the right page for your business.
Even your hours of operation will appear in a Google search for your business once you've set up a Google+ local business page.
Now you need to be aware that when you create a Google+ local business page, you actually have two options to choose from:
Storefront business: Choose this option if you have a business that your customers can visit, i.e bricks and mortar and front dfoor that they walk through.
Service area business: Choose this option if you serve customers at their location within a specific service area (this is the option that worked best for my father-in-law and would work for anyone who offers services to a specific area).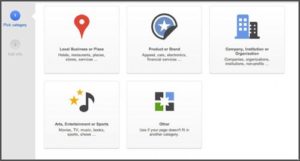 This is a page specifically for your customers or potential customers to find your business. It does not require ongoing community management, but you will want to update your page if you have any changes at your business (new business hours, relocation, new services, etc.)
Get started on your Google+ brand page!
Do I need to choose between a Google Plus local page and a Google Plus brand page?
No!
In fact, if you own a local business or offer local services and you want to drive people back to your business's online properties, then setting up BOTH a Google+ local business page and a Google+ brand page is your best option.
Setting up both a local business page and a brand page for your business will allow your business to not only get found though Google Maps and Google Search, but you will also improve your search rankings and get more eyes on the content you share on your new Google+ brand page.
Hopefully this has provided some of the answers you were looking for.
As for my father-in-law, she's now set up a Google+ local business page, a Google+ personal page, and is this week working on a brand page. The local business page alone has already brought him 4 new clients — who can argue with that?
So what are my next steps?
If you haven't already, make sure to sign up for a Google+ profile. Once you've filled out all your information, choose at least one of the two options for business pages.
Don't walk away from your desk until you've completely fill out the information necessary. You don't want to miss out on this opportunity for your business any longer.