We love using the iThemes Security Pro plugin to cover "most" of the security issues faced by our clients, and these guys have a great insight as to the threats faced by WordPress website.
It feels like every week there's another security breach in the news. It can cause panic, especially when we think website security has to be complicated.
But protecting your WordPress website doesn't have to be hard. WordPress security is easier than you think.
In this infographic, iThemes Security team covers the five ways to secure your WordPress website.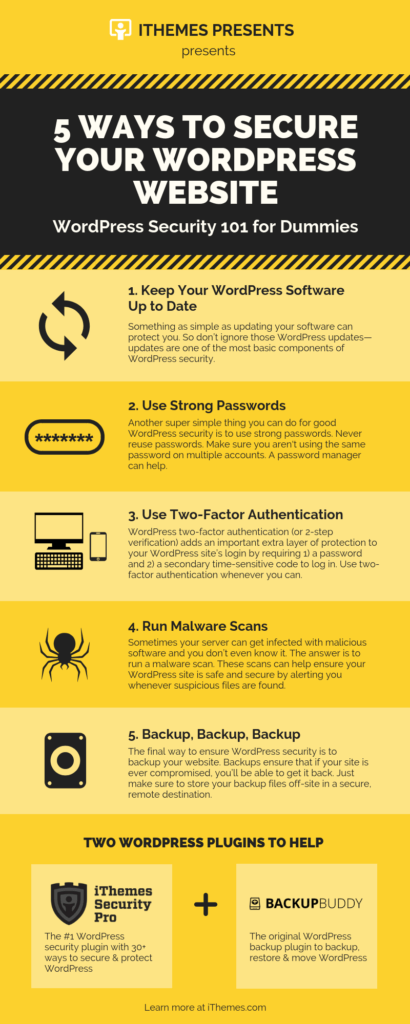 Keep Your WordPress Software Up to Date
Something as simple as updating your software can protect you. So don't ignore those WordPress updates—updates are one of the most basic components of WordPress security.

Use Strong Passwords
Another super simple thing you can do for good WordPress security is to use strong passwords.
Never reuse passwords.
Make sure you aren't using the same password on multiple accounts. A password manager like
LastPass can help.

Use Two-Factor Authentication
WordPress two-factor authentication (or 2-step verification) adds an important extra layer of protection to your WordPress site's login by requiring 1) a password and 2) a secondary time-sensitive code to log in.
Use two-factor authentication whenever you can.
Run Malware Scans
Sometimes your server can get infected with malicious software and you don't even know it. The answer is to run a malware scan.
These scans can help ensure your WordPress site is safe and secure by alerting you whenever suspicious files are found.

Backup, Backup, Backup
The final way to ensure WordPress security is to backup your website.
Backups ensure that if your site is ever compromised. you'll be able to get it back. Just make sure to store your backup files off-site in a secure. remote destination.
iThemes Security Pro
The #1 WordPress security plugin with 30+ ways to secure & protect WordPress the easy way 🙂
BACKUPBUDDY
The original WordPress backup plugin to backup. restore & move WordPress
Learn more at iThemes.com